The most efficient, consistent way to purchase books is to order directly from the author. Contact Ken Hada (khada@ecok.edu) . You may also order some of these titles on-site using the secure paypal and a credit card. You may order directly from the publisher, or from your favorite independent book store, Amazon and Barnes and Noble.
---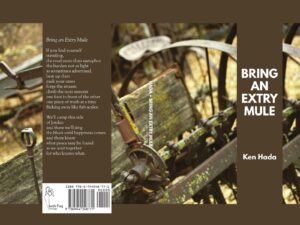 BRING AN EXTRY MULE: (VAC: Purple Flag, 2017). Jonas Zdanys writes: "[Hada] knows, and at every step affirms, that 'the same stars hang above us all.' That is the fundamental truth in these remarkable poems, genuine and insightful, that at every turn of the page bring us to smiling recognition or to tears. Hada knows that we all share this great land together, that for many of our fellow citizens an "extry mule" is a matter of necessity and of pride, and that all of us must accept that the commitment to shared purpose and community – across the many horizons at the nation's great core and both eastward and westward to the oceans that frame us – are what 'keep an unfair/world from grinding to a halt.' This is a brilliant book, a literary and cultural treasure"
---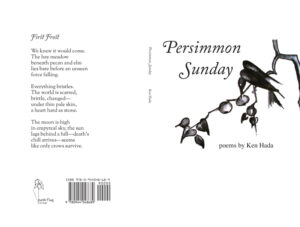 Persimmon Sunday– December 2015 Chicago: (VAC: Purple Flag 2015) A review by Oklahoma Poet Laureate, Ben Myers, is posted http://vacpoetry.org/persimmon-sunday/
---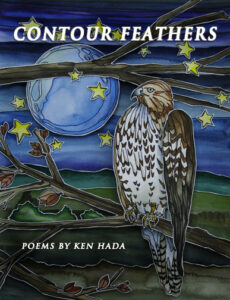 24 new poems. artwork by Sarah A. Hada an ebook available at amazon.com.
"When I read Ken Hada's poems, I'm reminded why we need poetry. Our hearts and souls get little nourishment from the words in our daily lives. We need poetry to remember to look and listen to the world around us. Just read "When I Dream" and you too will know what poetry does and why we need it" (Richard Cooper, review on Amazon.com).
---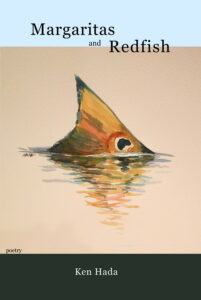 Lamar University Press (November 2013).
Paul Bogard (The End of Night) says "these poems are clear companions in a world to often confused by concrete and steel, information overload and nature deficit-disorders."
A review is posted at: http://vacpoetry.org/2014/01/15/margaritas-and-redfish/
---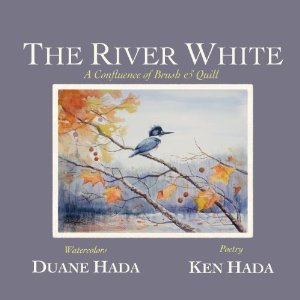 ;;
A collaborative project with brother Duane Hada, whose plein aire watercolors follow the White River from its mountain source 700 miles to the Mississippi. 90 paintings and 40 ekphrastic poems, plus an historical Introduction by Greg Patterson, The River White has been praised by Dave Whitlock and LeAnne Howe, was a finalist for the Oklahoma Book Award and reviewed in World Literature Today. Order directly from Ken, or Mongrel Empire Press, or Powell's Books or Indiebound, or Barnes & Noble or Amazon.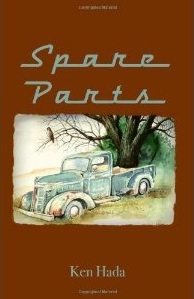 Recipient of the 2011 Wrangler Award by the National Western Heritage Museum and Cowboy Hall of Fame, and finalist for the Oklahoma Book Award, Spare Parts, according to Larry Thomas offers "little triumphs necessary to sustain us through the tragedies of our lives." Four of the poems from this collection have been featured on Garrison Keillor's nationally syndicated program The Writer's Almanac. Order from Ken or Mongrel Empire Press, Powell's Books, Indiebound,  Barnes & Noble or Amazon.
---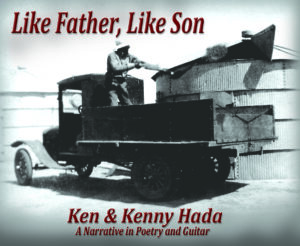 17 new poems from Ken and 12 original guitar compositions from son Kenny Hada forms a moving narrative. This enjoyable CD, praised by Tim Tingle for its eloquent, dusty art, offers a concept- album of characters shaped by place. Order directly from Ken or Kenny. Email khada@ecok.edu
---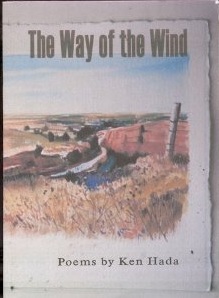 Just recently re-issued in a kindle format, this 2008 collection is Ken's first full-length collection. Published by Village Books Press, the landscape of Oklahoma is prominent. Rilla Askew says, "These richly evocative poems of place and perception are some of the finest I've read. If you would know Oklahoma, her seasons, sounds, sights, textures, what lives here in the spirit and the land, read Ken Hada's Way of the Wind." Order directly from Ken or from Village Books Press. Email khada@ecok.edu